Operation Yuletide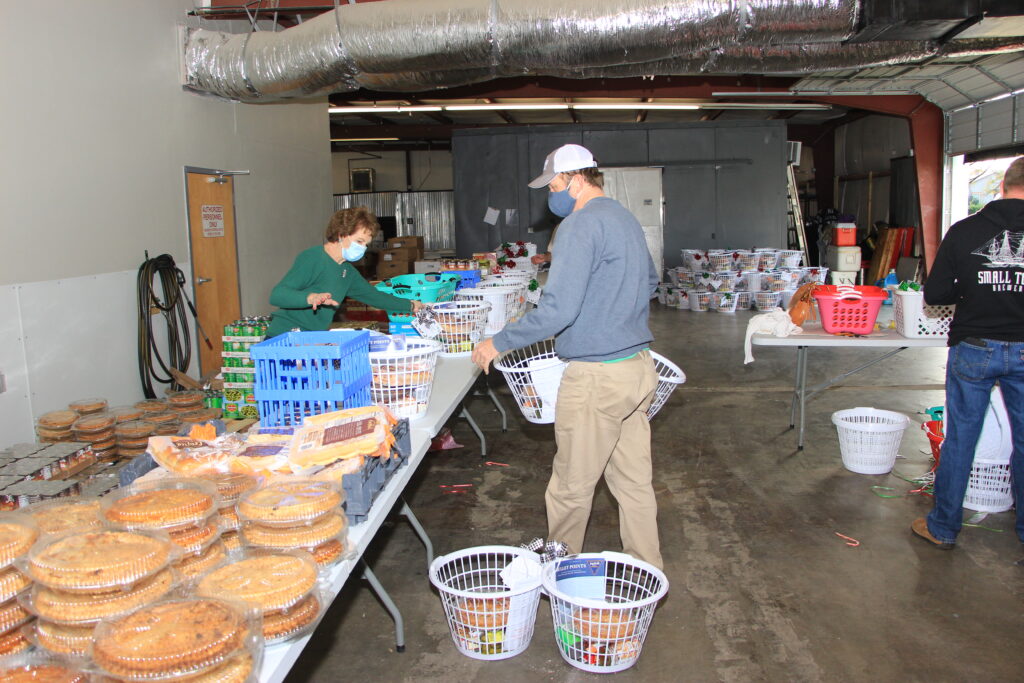 Ten days before Christmas, when most people scamper to finish last-minute holiday chores, Fayetteville Police Foundation members and their spouses gathered in the Bright Light Brewing Company warehouse on McMillan Street for a special project. There they hurried to fill laundry baskets with the ingredients for a tasty holiday meal.
Their goal was to fill 575 baskets with beans, sweet potatoes, dressing with gravy, pies, candy, and turkeys or hams. The following day they distributed them to every employee of the Fayetteville Police Department. The cold, wet weather did not deter them.
Operation Yuletide was just one way the Fayetteville Police Foundation showed its appreciation for what each member of the Fayetteville Police Department does for his or her community.
This year's COVID-19 pandemic dampened many of the traditional programs the Foundation conducts on behalf of the department. Shawn Groover, Foundation president, earlier this year reorganized the membership into action-oriented subcommittees that align themselves with specific Foundation goals. Among those subcommittees is one that fosters innovative and collaborative projects on behalf of the department. Wells Alderman chairs the subcommittee. He and his committee members helped coordinate the planning of Operation Yuletide.
"Because of COVID, we were limited in traditional events the Foundation has done in the past. Jackie Danker (board member) had a great idea that created Operation Yuletide," Alderman said. His team members were Cayley Fisher, Lisa Geddie, Kali Ziegler, and Jackie Danker.
Alderman's personal connection with Smithfield Foods resulted in the donation of 200 hams. "Other members of our committee and board members stepped up tremendously in getting items donated," Alderman said.
The Foundation had help with Operation Yuletide. Help came from the community and from board member donations. According to Cindy McCormic, Foundation executive director, a special thanks go to the following:
Bright Light Brewing Company
Charlene and Jay Wyatt from Valley Auto World (board member)
Citizens' Care Project
Drew and Kali Ziegler (board member)
Flowers Food
Food Lion (Raeford Road)
Chris' Steakhouse
Harris Teeter (Raeford Road)
Jackie Danker (board member)
Kinlaw's Supermarket
Messengers for Christ Sunday School, Village Baptist Church
Mount Olive Pickle Company
Publix Supermarket
Smithfield Foods
Wayne Hair of World's Finest Chocolate
Wells Alderman (board member)
The response from police officers, their spouses, and from the department's civilian employees was overwhelming. Groover reported to the board that messages of appreciation flooded the Foundation's Facebook Page.
"Our Foundation set out months ago to do more to show our officers and staff how much we appreciate everything they do for our community EVERYDAY. This event not only allowed board members to thank our officers and FPD staff , I truly believe it brought our board closer together and set the tone for great things to come," Alderman said.